Sensitive Skin Specialists
A selection of our best selling Sensitive Skin products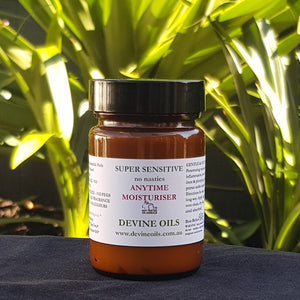 Super Sensitive Anytime Moisturiser
Sale price Price $39.00 Regular price Unit price / per
Tax included.
Improved my Eczema
As someone with super dry, sensitive skin and having struggled with eczema for a long time, this is hands down the best moisturiser I have ever used.
Love Your Products
Feel very natural and harmonious with my sensitive skin
Eczema sufferer
Best moisturiser I have ever used. I saw super quick results and since using it for a couple of months my eczema has disappeared. My skin is so much better!!
Great Product
I have dermatitis on my face. Using these products I noticed a difference within a week! My face is not so dry and the flakiness has decreased dramatically.
Sensitive Night Moisturiser
Sale price Price $39.00 Regular price Unit price / per
Tax included.
My skin was flaring due to my Lupus and someone bought this for me as a gift, now there is no going back to my shop bought moisturiser. Love love love it, thank you Devine Oils
Amazing!
I love this so much I'm buying it for my friends
Love this Moisturiser
I think this has to be one of the most pleasant moisturisers I've ever used-it's light almost like a creme gel, it has a natural pleasant fragrance and it's super hydrating.
Love this Product
Feels great when I put it on and my skin just soaks up the goodness beautifully and I don't need to use much.
Happy Customer
Love this product. I'd run out and my skin was feeling it so when it arrived I was excited as was my skin 😀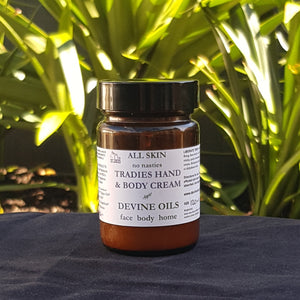 Tradies Hand Cream
Sale price Price $47.00 Regular price Unit price / per
Tax included.
My husband is a concretor. His hands have softened and the cracks are healing very well only after 10 days use.
Silky Smooth
Love how smooth and silky this cream is ,not greasy and very nourishing. My hands are loving it
Tradies Hand Cream
Amazing, best product for dry hands. My husband loves it.
Tradies Hand Cream
This cream has done wonders for my boyfriend's dry, cracked and split hands.
Doesn't have that greasy feeling
Tradies Hand Cream Review
So happy to find such an amazing product. At last, the perfect gift for my hard working tradie. Thanks for great service Louise!
Night Oil Sensitive Skin
Sale price Price $57.00 Regular price Unit price / per
Tax included.
Lovely Product
I find this a really lovely night treatment that is easily absorbed into my skin. I have very sensitive skin and this doesn't react at all
Love this Product
It's super hydrating and absorbs really quickly. I no longer need to use a moisturizer at night, and this product is way more effective.
My skin is always soft in the morning
It absorbs beautifully and is so nice to apply just before bed as it doesn't leave my face feeling greasy or unclean.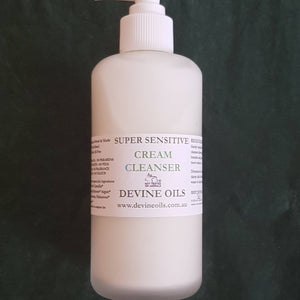 Super Sensitive Palm Oil Free Cream Cleanser
Sale price Price $68.50 Regular price Unit price / per
Tax included.
Beautiful soft effective Cleanser
This cleanser that a beautiful soft scent and feels amaaaazing on the skin. Clears all makeup and oily residue from the day! Gorgeous!
Super Sensitive Cleanser
Love this cleanser for my sensitive skin! Has a lovely scent and my skin feels soft and clean afterwards, not dry and stripped of all it's natural oils
Fantastic Cleanser
I've been using the Super Sensitive cleanser and my skin almost always reacts when I change products and is very season sensitive. This cleanser was superb right from the start. I had no reaction to it and in fact I found that it was much more gentle than anything I had used previously. My skin feels clean without the dryness of normal cleansers. I would highly recommend this product
LOUISE - DEVINE OILS FOUNDER