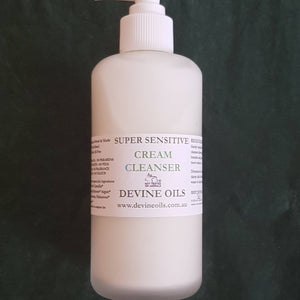 Super Sensitive Palm Oil Free Cream Cleanser
Sale price Price $68.50 Regular price Unit price / per
Tax included.
Super Sensitive Skin Palm Oil Free Cleanser in glass bottles  
Cruelty Free Vegan Australian Skincare Brand
Main Benefits: 
Cell Regeneration 
Gently removes dirt and makeup,
Sebum Balance, 
Heal Scar Tissue,  
Improve Appearance of Fine Lines

. 
Gentle face wash combining Organic Aloe Vera*, Frankincense, Organic Tamanu,  Organic Palmarosa* and Australian native Sandalwood Nut to protect and support cell regeneration, wrinkles, scar tissue and skin balance. Removes impurities and toxins. Can be used with all other products. Our best all round cleanser for women's skin health.
All Skin Types 
 *100% Certified Organic
Organic Aloe Vera Gel*, Organic Camellia*, Organic Evening Primrose Oil*, Organic Argan Oil*, Frankincense, Organic Palmarosa*, Australian Sandalwood Nut,  Organic Tamanu,* Organic Geranium*, Organic Lavender*