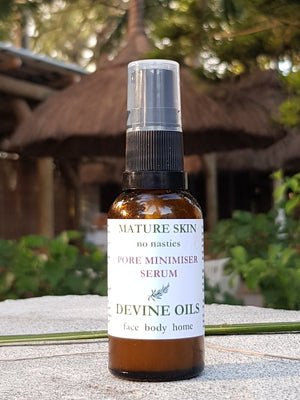 Pore Minimiser Mature Skin
Sale price Price $57.00 Regular price Unit price / per
Tax included.
Cell regenerating ingredients.
Classic needs for mature skin in glass bottles.
100% Australian made Organic Skincare. 
Cruelty Free Vegan Australian Skincare Brand
Benefits include: 
Open Pore Reduction, 
Toning and Firming,
Skin type - Mature and all skin types
Aloe Vera, Argan Oil, Frankincense, Myrrh and Neem Seed assist overall skin health and show an improvement with continued use. Non greasy application, no waiting time to apply moisturiser or make up.




We are proud to reassure our clients all products are Vegan, Palm Oil free and nothing is ever tested on animals and never will be.
Louise Devine , Founder
Full Ingredient List
Organic

 

Aloe Vera Gel* , Organic

 

Neem Seed*, Organic

 

Argan Oil*, Frankincense, Organic

 

Carrot Seed*, Benzoin,  Organic

 

Lavender*, Organic

 

Tea Tree*, Myrrh, Organic

 

Lemon*, 

Vitamin E (tocopheryl)